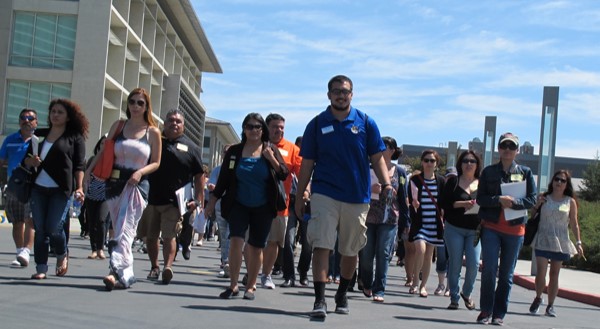 The Parents/Guest program at New Student Orientation includes a variety of activities that are meant to introduce you to the university and provide information that will help you ease your student's transition to college life. Orientation is a great opportunity for parents and guests to learn what it means to be a Partner in your student's success, meet staff and faculty members, find out what it will take for your student to be academically successful at UC Merced, and learn about helpful campus resources. Check in will start at 8:00am with the one day program promptly starting at 9:00am and ending at 5:00pm. The Parent and Guest Orientation program runs concurrently with the student program.
We recommend that you leave young children at home, as students and their guests are expected to stay for the entire time.
A continental breakfast, lunch and snacks will be provided at these sessions.
At orientation you can:
Learn tips that will help your student achieve academic success at UC Merced
Receive information about helpful campus resources
Meet faculty, staff, and learn about their teaching/research interests
Hear from current students about campus life
Learn how to ease your student's transition to college life
Go on a Campus Tour, CatTracks City Tour, and Housing Tour.
Visit the Campus Store to purchase UC Merced gear
Ask our staff questions about financial aid, housing, health insurance, billing and much more
Questions?
Review the frequently asked questions for first year students.
Parent and Guest Orientation Presentations
orientation_parent_master_presentation_2018.pdf
partnering_with_your_university_scholar_2018.pdf